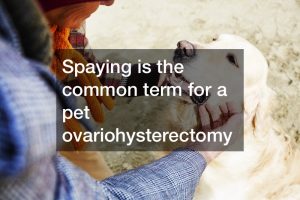 Spaying is the common term for a pet ovariohysterectomy, which is the surgical removal of a dog's ovaries and uterus. You've probably heard plenty about pet spaying before, and you no doubt know some dogs who've undergone this procedure. But is this surgery the right choice for your dog? There are many factors to consider and many pros and cons to weigh.
This video shares some of the risks and benefits of a spaying procedure that can help aid you in your decision.
The truth is that there's no right or wrong choice. This decision will depend entirely on your dog's specific needs and health concerns, behavior, medical conditions, and many other factors. This is a decision that's not to be taken lightly. Instead, you should do plenty of research beforehand. You should also consult with your vet and discuss your individual dog to determine if this is a procedure for him/her.
This informative video from a veterinarian is a great starting point as you begin your decision-making process. Remember to take your time with this choice to ensure you're making the best and healthiest decision for your pet.